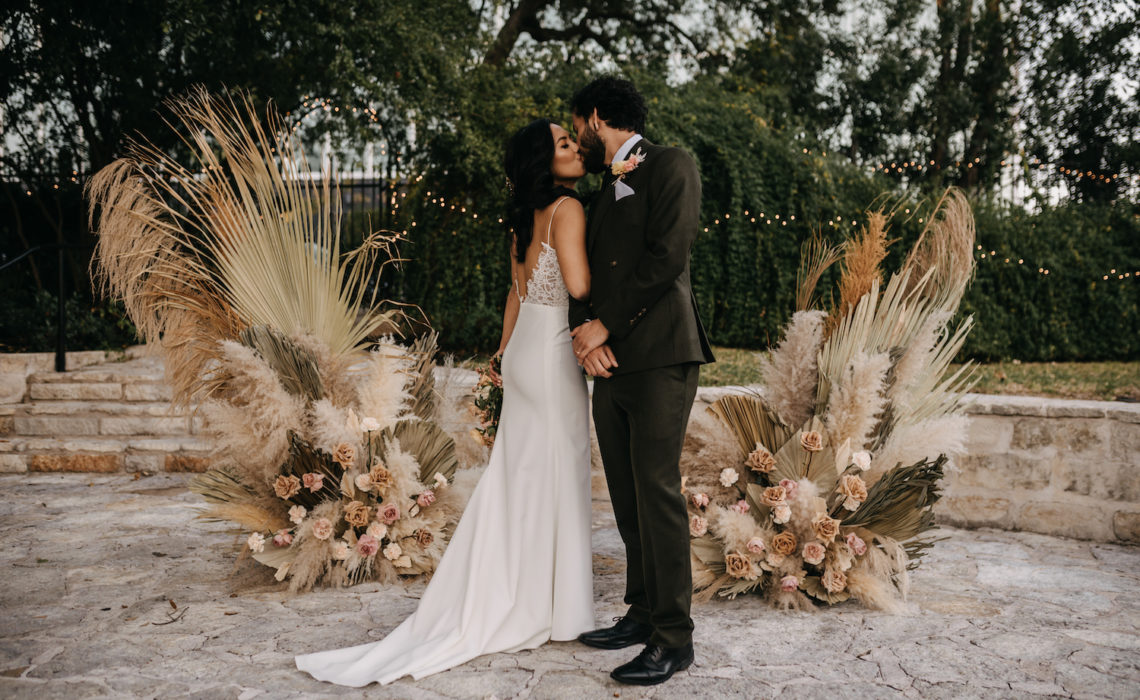 This past year has been tough on those planning weddings and some creative outcomes have been the solution. I feel for all my couples that have had to postpone, sometimes multiple times, and/or drastically change the scope of their wedding. Samantha and Jonathan were in the same situation when they contacted me. They had already rescheduled twice with the original wedding planned in the Philippines. Finally, the couple settled on a small wedding in Austin, Texas at the Allan House, site unseen.
In October 2020 Samantha, Jonathan, and I dived into designing their wedding. They had most of their vendors due to postponements, but we needed a style. The original plan was for a tropical wedding in the Philippines. Therefore, we decided to incorporate that while also adjusting the scope for a November wedding in Texas. We muted the colors, added lots of floral fans, and natural, organic textures to bring a tropical fall wedding to life. Remi & Gold rocked it with the floral! In addition, the velvet blush linens from Premiere were the perfect base for the tables. Then, Rebekah Paul Photography captured the wedding and details in spectacular fashion.
Though the wedding wasn't their initial large party plan, the night was full of love, laughter, adorable kids surprising the newlyweds with a song, and lots and lots of dancing! DJ Cassandra had the dance floor hopping for hours of fun and some great dance moves. It was intimate; it was special; it was love. Congratulations Samantha and Jonathan, it was our pleasure being a part of your wedding day!
Other vendors included: Peached Tortilla, Life is Sweet Bakery, ATX Glam, and cocktail entertainment by Mariachi Guadalajara. Vintage&Lace provided design and coordination services. Contact us for more information!